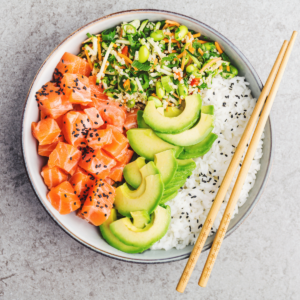 At Prime Planet, we believe in creating culinary adventures that excite the senses. Our salmon poke bowl recipe is a celebration of vibrant flavors and nourishing ingredients, perfectly paired with the unique crunch of our Tostones plantain chips. Get ready to indulge in a bowl bursting with freshness, colors, and a tantalizing blend of textures.
Unleash the Freshness: The Salmon Poke Bowl
When it comes to salmon poke bowl recipes, the star of the recipe is the succulent and richly flavored salmon, delicately marinated in a delectable sauce. Combined with a colorful assortment of fresh vegetables and toppings, it creates a bowl that is as visually appealing as it is delicious. Each bite is a delightful balance of textures, flavors, and nutrients.
The Perfect Crunch: Prime Planet's Plantain Chips
Our plantain chips are the ideal companion for a poke bowl with salmon. With their distinctively crispy texture and natural sweetness, they add an exciting element to every mouthful. The chips provide a satisfying crunch that complements the softness of the salmon and the crispness of the vegetables, elevating the overall dining experience. Choose from our wide collection of gluten-free diet snacks, which are also non-GMO, vegan, and kosher.
Listed below are our flavors to pair with a salmon poke bowl: 
How to Make a Salmon Poke Bowl With Tostones
Ingredients:
For the salmon poke:
Fresh salmon filet, diced

Soy sauce or tamari

Sesame oil

Rice vinegar

Green onions, thinly sliced

Red chili flakes (optional)

Sesame seeds
For the Bowl:
Cooked rice or quinoa

Avocado, sliced

Cucumber, thinly sliced

Carrot, julienned

Edamame beans

Radishes, thinly sliced

Nori seaweed crumbled

Fresh cilantro or parsley, chopped

Prime Planet's Plantain Chips
Instructions:
In a bowl, combine the diced salmon, soy sauce or tamari, sesame oil, rice vinegar, green onions, red chili flakes (if desired), and sesame seeds. Toss gently to coat the salmon evenly. Allow it to marinate in the refrigerator for at least 15 minutes to enhance the flavors.

Prepare your bowl by placing a base of cooked rice or quinoa at the bottom. Arrange the sliced avocado, cucumber, carrot, edamame beans, radishes, and crumbled nori seaweed on top.

Take the marinated salmon and place it generously over the prepared bowl, ensuring an even distribution. Drizzle any remaining marinade over the ingredients for an extra burst of flavor.

Garnish your salmon poke bowl with freshly chopped cilantro or parsley, adding a vibrant touch to the dish.

Serve alongside a handful of Prime Planet's Plantain Chips for the perfect crunch and a delightful contrast of flavors.
Elevate Your Culinary Experience With Prime Planet
At Prime Planet, one of the main things about us is that we are passionate about providing you with exceptional snacks and recipes that elevate your culinary experience. A salmon poke bowl recipe, paired with the crunch of our plantain chips, embodies the essence of our commitment to quality and taste.
Try a Salmon Poke Bowl Recipe With Prime Planet's Plantain Chips Today!
Ready to embark on a culinary journey? Try our salmon poke bowl recipe with Prime Planet's plantain chips and delight your taste buds. Order our plantain chips today and experience the perfect balance of flavors and textures in every bite. Elevate your snacking and dining experiences with Prime Planet! Plus, you can find additional information and recipes on our blog.
Email us today to schedule an appointment and to learn more about everything we can offer you. 
Related Readings:
Are Plantain Chips Gluten-Free?