Habanero-Flavored Plantain Chips
Sometimes you need a little kick, a little pep in your step. Nothing you're going to regret later, just a little bite back from whatever you're nibbling on. If you're looking to provide a healthy snack with a bit of flair, try Prime Planet's habanero-flavored tostones. Our fried plantain chip recipe provides a tropical foundation and a spicy aftertaste that will leave your customers craving more. A fan-favorite flavor, Habanero is the perfect blend of sweet and spicy, all topped off with a satisfying crunch.
As a healthy snack vendor, we want to provide a delicious and healthier alternative for your potato chip and junk food cravings. Gluten-free and non-GMO with zero trans fats, our Tostones will fly off your shelves and become a customer favorite in no time. With our popularity blooming, today is the right day to work with Prime Planet.
Tostones are a Caribbean delicacy made from plantains, a type of banana. Rather than picking the ripe, soft, yellow plantains, the fruits used to make Tostones are harvested before they are fully ripe, leaving them with a green hue. Plantains are a good source of vitamins A, B, C, and K. They are fiber-rich, and also contain magnesium and more potassium than bananas. Fried with all-natural oil, plantains are a healthy alternative snack to processed food.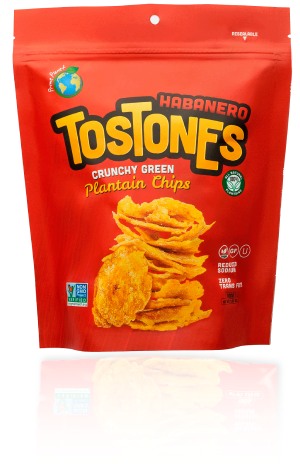 To provide your customers with a tasty vegan snack option, contact the team at Prime Planet today. Our habanero plantain chips are always in high demand, so don't think twice. At Prime Planet, we strike a balance between great flavor and healthy living. We're committed to making the world a better place. And a little tastier, too.