Habanero-Flavored Plantain Chips
Sometimes we all need a little kick, a little pep in our step. Nothing we are going to regret later, but rather a little bite back from whatever we are nibbling on. If you're looking to provide a healthy snack with a bit of flair, try Prime Planet's habanero-flavored tostones. Our fried plantain chip recipe provides a tropical foundation and a spicy aftertaste that will leave your customers craving more. A fan-favorite flavor in our Hispanic snacks, habanero is the perfect blend of sweet and spicy, fruity, floral, sweet, and hot pepper flavors. It is full of pungency in each bite, and it is all topped off with a satisfying crunch. 
As a healthy snack vendor, we want to provide a delicious and healthier alternative for your potato chip and junk food cravings. Gluten-free and non-GMO with zero trans fats, our tostones will fly off your shelves and become a customer favorite in no time. With our popularity blooming, today is the right day to work with Prime Planet. You can find our snacks in larger, brand-name stores like Publix and Kroger. We would love to work with you on expanding our reach all over the country!
There are different types of bananas. Sweet or "dessert bananas" are very popular across Europe. The plantains used for our tostones, however, are less sweet and starchier than the banana. They are more of a staple for people in tropical countries. 
Tostones are a Caribbean delicacy made from plantains, a type of banana. Rather than picking the ripe, soft, yellow plantains, the fruits used to make tostones are harvested before they are fully ripe, leaving them with a green hue. Plantains are similar calorie-wise to potatoes and are a good source of vitamins A, B, C, and K. As a hidden superfood, they are fiber-rich and also contain magnesium and more potassium than bananas. Magnesium is an essential mineral that promotes different biochemical processes in the body. Plantains are a healthy alternative snack to processed foods as they are fried with all-natural oil.
The plantains used for tostones often grow slightly larger than traditional bananas and are known as "cooking bananas." They don't taste as great if they are raw, but rather they taste the best when they are boiled, fried, roasted, or flavored and turned into our delicious habanero tostones. Plantains are a rich source of complex carbohydrates, vitamins, and minerals. They are also full of fiber, which is important because it helps with digestive health.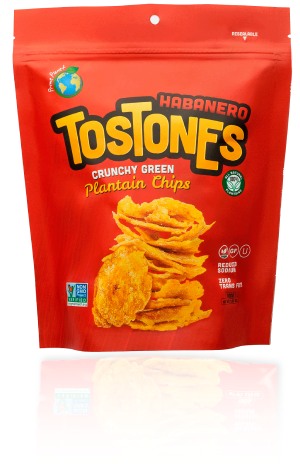 To provide your customers with a tasty vegan snack option, contact the team at Prime Planet today. Our habanero plantain chips are always in high demand, so don't think twice. At Prime Planet, we strike a balance between great flavor and healthy living. If you are interested in becoming a distributor, click here. We are proud to add you to our Prime family and get our snacks out into the globe. 
We're committed to making the world a better place and a little tastier, too.