Prime Planet tostones are all-natural and made with care from premium green plantains. Harvested under the highest quality standards and technology we offer not only the most delicious flavor, but also a healthier snack option that is certified Vegan, Gluten-Free, and Non-GMO. These are among the many reasons consumers prefer Prime Planet. Our tostones are a smart alternative to corn and potato chips.
In addition to being a healthy snack option, our green plantain chips also serve as a perfect pairing to a wide variety of dishes from around the world. Whether you're on the go, sharing with friends, or you want to take it slow and accentuate every bite of your main course with a bold, flavorful crunch, Prime Planet is where NUTRITION, TASTE, and WELL-BEING come together in one bite. 
Our natural green plantain chips come in a variety of exciting flavors.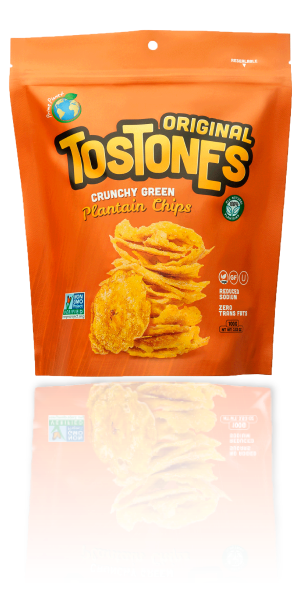 Original Flavored Green Plantain Chips
The taste of our original-flavored tostone chips is not meant to overwhelm your taste buds, but to soothe them with a lightly salted, natural plantain flavor. With our Prime Planet tostones We strive to find an elegance in the simplicity of our original flavor with our three natural ingredients.
Unit: 1 Bag 3.53 oz/100gr
Box: 8 units
Palette: 192 boxes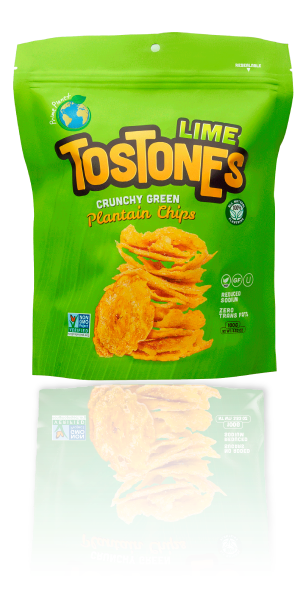 Lime Flavored Green Plantain Chips
When you are looking to put your next best-selling healthy snack on the shelves, few flavors catch the modern eye like a blast of lime. These gluten-free lime tostones are flavored with a fruit that has a history of packing a punch when served in small portions. Our chips are one of the best things to do with lime flavoring!
Unit: 1 Bag 3.53 oz/100gr
Box: 8 units
Palette: 192 boxes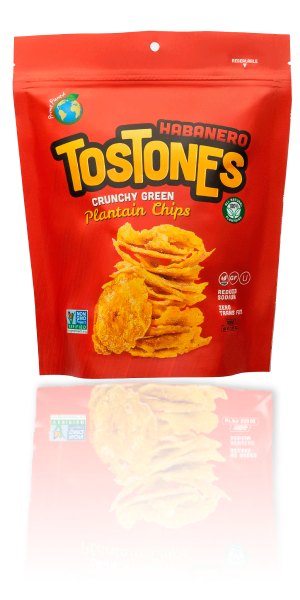 Habanero Flavored Green Plantain Chips
A fan-favorite flavor, habanero tostones are the perfect blend of sweet and spicy, all topped off with a satisfying crunch. Our habanero flavor is a healthy snack with a kick that lets our customers curb that junk food craving with a healthier alternative.
Unit: 1 Bag 3.53 oz/100gr
Box: 8 units
Palette: 192 boxes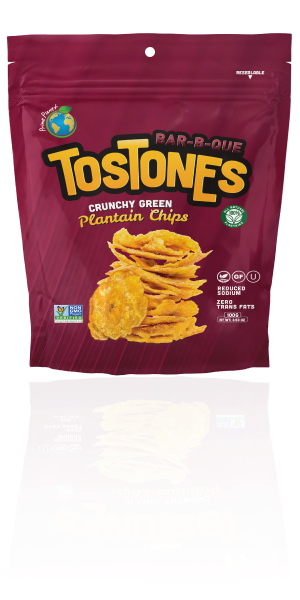 BBQ Flavored Green Plantain Chips
When you blend the tropical undertones of Prime Planet tostones with the most popular snack flavor in America, you get a match made in heaven. They are the perfect partner for your next gathering or party! Everyone loves a good BBQ chip to munch on, so why not provide a healthy option?
Unit: 1 Bag 3.53 oz/100gr
Box: 8 units
Palette: 192 boxes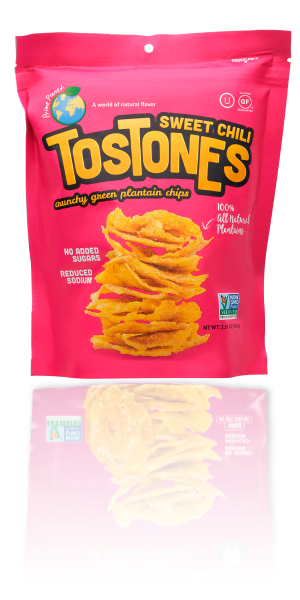 Sweet Chili Flavored Green Plantain Chips
With Prime Planet's Sweet Chili Tostones, your client will be clamoring for another crunch of our sweet and spicy recipe. Our goal was to create a snack with the perfect balance of flavors, not to mention the amazing crunch!
Unit: 1 Bag 3.53 oz/100gr
Box: 8 units
Palette: 192 boxes