Original Flavored Green Plantain Chips
At Prime Planet, we believe that there's elegance in simplicity. In a world of sensory overload, sometimes you need to revert back to the basics, something understated and refined. But remember, simple or original does not mean bland. The taste of our original-flavored tostones chips is not meant to overwhelm your taste buds, but to soothe them with a lightly salted, natural plantain flavor. With all the signature crunch you can ask for, Prime Planet's recipe for healthy Hispanic snacks will keep your customers always coming back for more. 
As a plantain chip vendor, we want to provide a delicious, conscientious substitute for your potato chip and junk food cravings. Our tostones ingredients help our snack be gluten-free and non-GMO with zero trans fats, our original-flavored plantain chips strike the right balance between taste, texture, and health benefits. With our popularity in full bloom, our vegan tostones chips will fly off the shelves. Today is the right day to work with Prime Planet! 
Our tostones have no preservatives, and are healthy, certified gluten-free, and vegan! Not to mention we are a cost-effective option for wholesale snack distributions as well as HACCP Certified and Non-GMO Verified. 
The plantain is a tropical fruit native to Southeast Asia. Today, plantain trees are planted and harvested around the world. Though plantains are a type of banana, they are starchier and cooked before they are eaten. While widely popular in Latin America and parts of South America, tostones plantain chips are becoming a more prominent healthier alternative in the American snack industry. 
Our tostones chips are made from thinly sliced green plantains then cooked and seasoned with our all-natural flavoring to achieve the signature delicious taste and crunch our chips are known for. Prime Planet's plantains are hand-picked from Ecuador and harvested at the highest quality. Our experts use the best technology to make our healthy Hispanic snack option taste good too! Plantain chips are a healthy alternative to potato chips that are often oily and non-nutritional. 
Plantain chips are full of vitamins A and C which both keep your skin healthy and benefit the immune system. Vitamin A plays a role in low-light vision and Vitamin C helps with the function that protects your tissues from damage.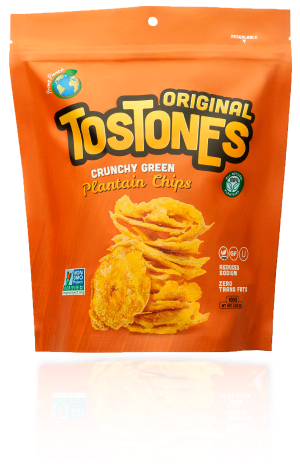 Our team takes pride in creating healthy Hispanic snacks for our customers. It is our way to provide the world with healthier alternatives to the basic snacks on grocery store shelves today. We also enjoy expanding our partnerships with more distributors. 
To provide your customers with a tasty vegan snack option, contact the team at Prime Planet today. Our original tostones chips are always in high demand, so don't think twice. At Prime Planet, we strike a balance between great flavor and healthy living. Our team
is committed to making the world a better place, and a little tastier, too. For any further assistance, we also offer a 24//7 support team, where operators are standing by!