Sweet Chili Plantain Chips
Life, and taste in turn, is all about finding the right balance. Things can grow dull if you don't mix it up a little. Sometimes, taking two flavors and putting them together can lead to the best of both worlds. With Prime Planet's Sweet Chili plantain chips, your clients will be clamoring for another crunch of our sweet and spicy recipe. 
A true healthy snack brand, our sweet chili tostones are gluten-free, non-GMO with zero trans fats. Plantain chips from Prime Planet are the perfect alternative to oily potato chips and nutritionless snacks. With our savory flavor and colorful identity, this product will fly off your shelves in no time. Our team is committed to providing continued growth in your community. Today is the right day to work with Prime Planet.
Importance of Limiting Trans Fats
We all know that there are some fats that are good for you. Some fats can lower the risk of heart disease and strokes, as well as lower blood pressure. However, some fats, like trans fats, have no health benefits and a lot of inherent risks. Trans fats raise your unhealthy cholesterol levels while lowering good cholesterol levels. Eating trans fats also increases your risk of developing heart disease and Type 2 diabetes.
At Prime Planet, we encourage healthy living and a healthy diet. We have taken a pledge for "no cholesterol, 0g trans-fats" products to align ourselves with the demand of the American food industry customers. Provide your consumers with a healthy, sustainable, great-tasting snack.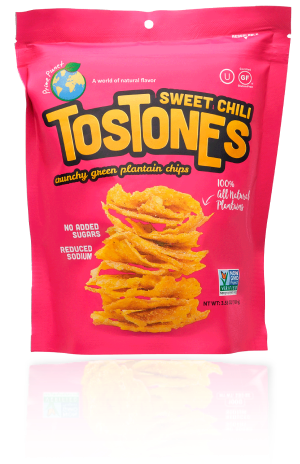 To provide your customers with a tasty healthy snack option, contact our team at Prime Planet today. Our Sweet Chili plantain chips are always in high demand, so don't think twice. One of our customer support agents is waiting to get you set up as a distributor today. Help our team at Prime Planet make the world a better place…and a little tastier, too.