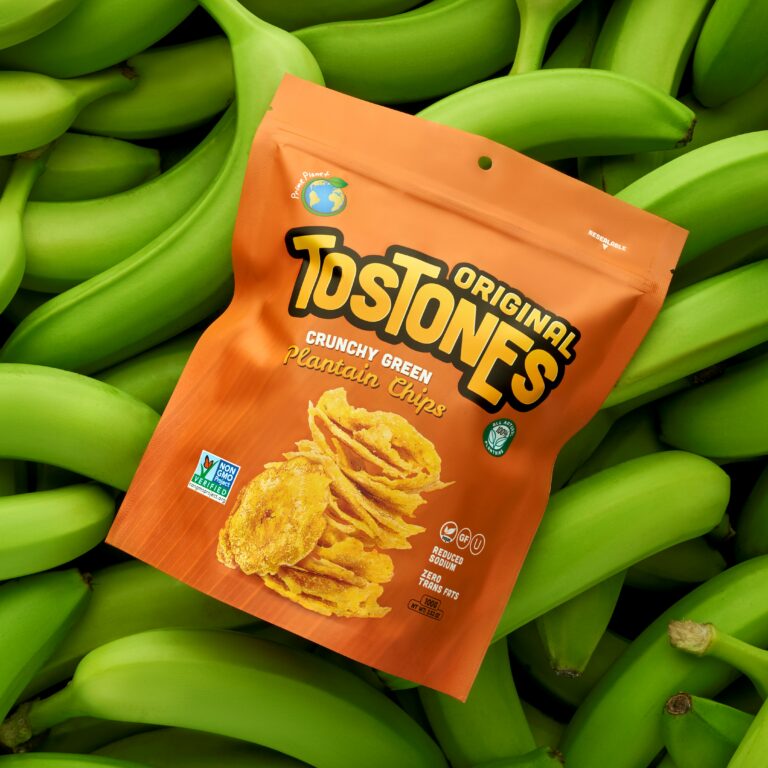 Adopting a new nutrition plan can be a challenge. One concern for consumers who've either been told by their doctor to avoid gluten or, alternatively, have opted to cut down on gluten for personal reasons, is that they'll "lose the crunch." Let's just say that nothing quite beats that satisfying sensation when chomping into chips, pretzels, or other crunchy snack foods.
"The good news is that those told to go gluten-free definitely don't have to lose the ever-satisfying 'crunch,'" says Marie Gonzalez, Business Development Manager for Miami-based Prime Planet brands. "If you love chips or other snacks containing gluten, Prime Planet's Tostones are the best gluten free snacks available – and boast numerous health benefits.
Locally sourced in Ecuador, South America, Prime Planet's green plantain chips are hand-picked under the highest quality standards and technology to offer not just delicious flavor, but a healthier alternative to traditional snacks like corn and potato chips.
What Exactly is Gluten?
In simple terms, gluten a substance found in grains such as wheat, barley, rye and a cross between wheat barley and rye called triticale. About one percent of the population have Celiac Disease, an autoimmune disease in which gluten nastily triggers immune system activity that damages the intestines. An additional six percent of consumers have been diagnosed with non Celiac gluten sensitivity. Other medical conditions too, such as wheat allergy, are tied to gluten intolerance.
Whatever the case, a gluten-free diet can manage symptoms and often improve the health of people diagnosed with these conditions. For others, though, limiting gluten is simply a personal choice, rather than a medical one.
The good news is that not only does Prime Planet brands offer the best gluten free snacks, but they're also certified as Gluten-Free (GF) by the National Celiac Association. Check out Prime Planet's Recognition Seal. It shows these yummy treats have undergone the most stringent third-party gluten-free certification available for product, processing, and packaging.
While studies show that some products claim to be gluten-free, that's not always the case. In one study conducted over a three-year period, the European Journal of Clinical Nutrition evaluated 158 food products labeled gluten-free and found that 5 percent didn't meet the FDA's limit of less than 20 parts per million of gluten.
Certified by the NCA
"We can assure you that our gluten free plantain chips do meet that requirement and, most notably, our certification by the National Celiac Association is a top-tier one," says Gonzalez, adding that this gives consumers peace-of-mind that the product is as advertised. So, a parent faced with limiting their child's food intake to only gluten-free products can rest easy. Kids can stay safe and still get the "crunch."
For those seeking to limit their own gluten intake as a personal choice – not because of Celiac Disease or another gluten-focused medical diagnosis – experts also urge that it's important to do it in a healthy way. Don't cut out whole grains – simply replace wheat with corn, amaranth, quinoa, or an occasional serving of rice, and they recommend looking for gluten-free whole foods such as fruits, veggies, lean meat and poultry, fish, many dairy products, nuts, and even some grains.
But when it's time to snack, never fear. With Prime Planet Tostones, your certified, gluten-free "fix" is just a bag away.
Benefits of Gluten-Free Snacks:
Gluten-free kids stay safe and still get the satisfying "crunch"
Boast numerous health benefits
A healthier alternative to traditional snacks
Reduces lactose tolerance
Promote healthy weight gain
Reduces joint pain
Improves gut health
Improves skin health
About Prime Planet
An innovative international food company based in Miami, Prime Planet's corporate mission is simply to bring to market the best gluten-free snacks – that are delicious, nutritious, and healthier for you. It's all-natural brand of Tostones offer not only the most delicious flavor, but a healthier snack option that is also certified Vegan and Non-GMO.
Knowledge, expertise, and direct access to leading global logistics and distributors of wholesale snacks and bulk snacks allow Prime Planet to find the shortest and most efficient commercial routes for ideal product shipment and product placement.
Where Can I Find a Plantain Snack Distributor?
For more information, or to become a distributor yourself, visit www.primeplanet.net; or contact Business Development Manager Marie Gonzales at 305-592-2044; or via email at bdm@primefreshproducts.com.
Additional Readings:
New Face for Prime Planet Tostones Unveiled 
Marie Gonzalez is Prime Planet Brand's Main Ingredient for Business Success