Everyone wants to add a bit of zest to their life these days — something with a steady kick of tang with bold and healthy undertones in every bite. When you are looking to put your next best-selling healthy Hispanic snack on the shelves, few flavors catch the modern eye like a blast of lime. It is a fruit with a storied history best served in small portions that always pack a punch.
Prime Planet proudly offers our flavorful gluten-free lime tostones, a healthy alternative to potato chips that packs a satisfying crunch. With reduced sodium and zero trans fat, our traditional recipe is a conscientious snack with a zing of taste. Our green plantain chips come in a resealable bag, so you can keep the flavor from the first chip to the last. Is your mouth watering yet?


Why choose lime Plantain Chips?
At Prime Planet, when we chose to make our Lime Plantain Chips, we understood that our unripe plantains are a great source of fiber and flavonoids, which act as anti-inflammatory agents.
Limes are generally considered to be healthy, as they are a good source of vitamins, folate, and potassium. Limes also contain citric acid, which aids digestion, and a high level of vitamin C can help improve iron absorption from plant-based foods. It's no wonder the lime variety of our tostones is one of our best flavors!
When combining the flavor and health benefits of both delicious green plantain chips and fresh limes, Prime Planet knew we were making the right choice. They are great for our health-conscious consumers who are eager for a flavorful snack that is vegan, gluten-free, and kosher.


Where to Get Lime Tostones Chips
If you are in the mood for something with a little tang, our lime tostones are your best healthy option. Plantain chips are higher in vitamin E, vitamin C, vitamin K, vitamin B6, vitamin B5, and potassium than other banana chips. Luckily, our gluten-free snacks are at Publix and are easily accessible at other local grocery stores, too. 
What are lime tostone chips
Prime Planet's Lime Tostone Chips are a deliciously crunchy snack made from tostones, a traditional Latin American food made from sliced and fried green plantains. These chips are seasoned with a zesty lime flavor, adding a tangy twist to the classic taste of tostone. Perfectly crispy and full of flavor, they make a great addition to any snack lineup. They are also gluten-free, vegan, and non-GMO, making them an excellent healthy alternative for many, including those who have dietary restrictions. Enjoy them on their own or with your favorite dip for a satisfying crunch.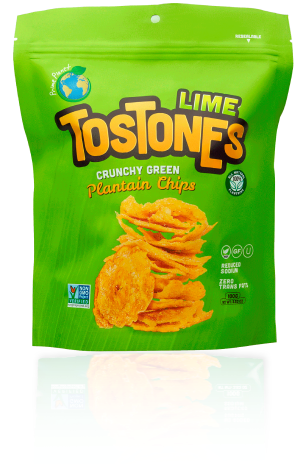 Interested in Becoming a Distributor?
Prime Planet is committed to producing premium, all-natural Hispanic snacks that all ethnicities can enjoy. With the increase in health awareness, all of our plantain chip flavors have no preservatives and are healthy, gluten-free, vegan, and kosher snacks that don't sacrifice flavor. 
Our wholesale baked tostones chips come in a box with eight (8) units and a palette of 192 boxes. Each plantain chip unit weighs 3.53 ounces or 100 grams. 
Learn more about becoming a Prime Planet plantain chip distributor.
To provide your customers with a tasty vegan snack option, contact the team at Prime Planet today. Our lime plantain chips are always in high demand, so don't think twice. At Prime Planet, we strike a balance between great flavor and healthy living. We're committed to making the world a better place. And a little tastier, too.