Everyone wants to add a bit of zest to their life these days — something with a steady kick of tang with bold and healthy undertones in every bite. When you are looking to put your next best-selling healthy snack on the shelves, few flavors catch the modern eye like a blast of lime. The fruit with a storied history best served in small portions always packs a punch.
Prime Planet proudly offers our new gluten free lime tostones, a healthy alternative to potato chips with a satisfying crunch. With reduced sodium and zero trans fat, our traditional recipe is the conscientious snack with a zing of taste. Our green plantain chips come in a resealable bag so you can keep the flavor from the first chip to the last. Is your mouth watering yet?
The plantain is a tropical fruit native to Southeast Asia. Today, Plantain trees are planted and harvested around the world. Though plantains are a type of banana, they are starchier and cooked before eaten. While wildly popular in the Caribbean and parts of South America, plantain chips are becoming a more prominent alternative in the American snack industry.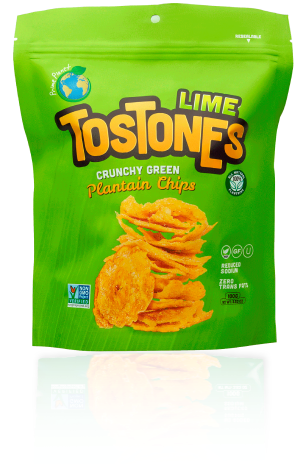 To provide your customers with a tasty vegan snack option, contact the team at Prime Planet today. Our lime plantain chips are always in high demand, so don't think twice. At Prime Planet, we strike a balance between great flavor and healthy living. We're committed to making the world a better place. And a little tastier, too.