BBQ-Flavored Green Plantain Chips
We're excited to announce the introduction of a sizzling new flavor, bar-b-que! When you blend the tropical undertones of fried plantains with the most popular snack flavor in America, you get a match made in heaven. One bite and you're transported to the backyard cookout. Our newest seasoning will pack a tangy punch along with the satisfying crunch of the plantain chips your customers crave. Our hand-picked plantains are chock full of vitamins and are sure to be your customers' favorite snack in no time!
Gluten-free and non-GMO with reduced sodium, our BBQ plantain chips will fly off your shelves! Our team is committed to providing a health-conscious substitute to processed potato chips with our vegan and gluten free snacks. With a steady growth in popularity, today is the right day to work with Prime Planet.
What Are Tostones Made Of?
Tostones are crisp, flattened plantain chips that are fried and served with a blend of seasoning. Unlike most goods, tostones are best prepared unripened. While plantains are native to Southeast Asia, these nutrient dense snacks have become a delicacy in the Caribbean and Latin America. With a tropical taste and a zesty crunch, our tostones are quickly turning into the choice substitute for highly processed junk food. Prime Planet's 100% All-Natural Plantains are the right choice for you and your business.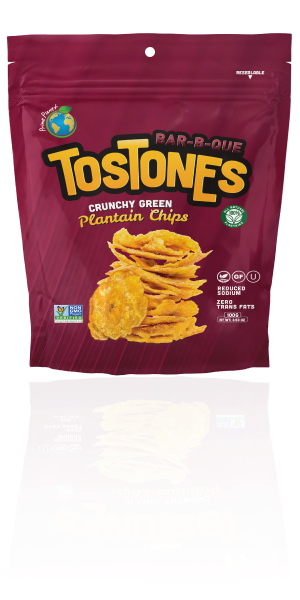 To provide your customers with a tasty vegan snack option, contact the team at Prime Planet today. Our BBQ plantain chips are always in high demand, so don't think twice. At Prime Planet, we strike a balance between great flavor and healthy living. We're committed to making the world a better place. And a little tastier, too.