BBQ-Flavored Green Plantain Chips
We're excited to to see that our sizzling flavor barbecue is so popular! When you blend the tropical undertones of fried plantains with the most popular snack flavor in America, you get a match made in heaven. One bite, and you're transported to the backyard cookout. Our newest seasoning will pack a tangy punch along with the satisfying crunch of the plantain chips your customers crave. With its mix of sweet, smokey, sour, and spicy elements, our hand-picked plantains are chock full of vitamins and are sure to be your customers' favorite snack in no time!
Gluten-free and non-GMO with reduced sodium, our barbecue tostones chips will fly off your shelves! Our team is committed to providing a health-conscious substitute for processed potato chips with our vegan and kosher snacks. With steady growth in popularity, today is the right day to work with Prime Planet. Our goal is to have our Hispanic snacks reach all of our customers across the country. We are already available in brand-name grocery stores, but we want to grow and be easily accessible to all of our consumers. 
What Are Tostones Made Of?
Tostones are crisp, flattened plantain chips that are fried and served with a blend of seasoning. Unlike many other foods, tostones are best prepared unripened. While plantains are native to Southeast Asia, these nutrient-dense snacks have become a delicacy in the Caribbean and Latin America. Nutrients like potassium, fiber, vitamin C, vitamin B6, vitamin A, vitamin K, copper, and magnesium can be found in this fruit. Being that it is carb-heavy and starch foody that is full of fiber and vitamins, plantains help improve digestion in addition to many other great benefits. 
On top of being nutritional, plantains are also gluten-free. Gluten is a protein found in wheat, rye, and barely. The benefits of gluten-free lifestyles and snacks are said to include improved health, weight loss, and increased energy. Fruits and vegetables are naturally gluten-free, so when creating our snacks, we thought plantains were the best idea! Full of nutrients AND gluten-free? Naturally, we picked them to create our flavored plantain chips. 
With a tropical taste and a zesty crunch, our tostones are quickly turning into the choice substitute for highly processed junk food. Prime Planet's 100% All-Natural Plantains are the right choice for you and your business. Our snacks are vegan, plus they are Certified Gluten-Free, Non-GMO Project Verified, and Certified HACCP, which proves our commitment to upholding food safety regulations.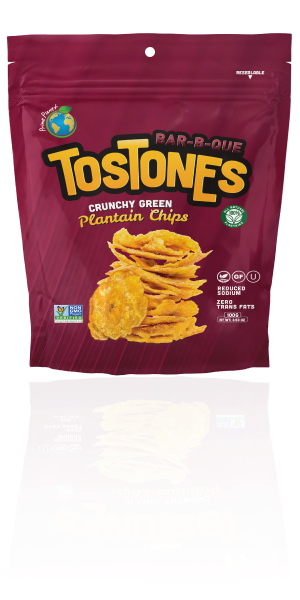 To provide your customers with a tasty vegan snack option, contact the team at Prime Planet today. Our barbecue tostone chips are always in high demand, so don't think twice. At Prime Planet, we strike a balance between great flavor and healthy living. 
Our snacks can be found in large supermarkets like Publix and Kroger. We look forward to expanding our reach and bringing these flavored plantains chips to stores across the country! 
We're committed to making the world a better place and a little tastier, too.