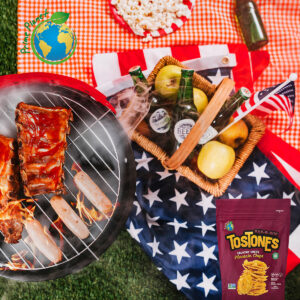 Whether you're having a big bash or a low-key gathering this Fourth of July, food is an essential part of our all-American holiday celebration – especially easy-to-munch snacks for all ages to enjoy.
So let's put a new twist on America's birthday with Prime Planet's crunchy green-plantain Tostones chips. Coupled with your favorite salsa, this will be one of the most delicious snacks that will fly off the plate and help fuel day-long celebrations until the final fireworks show caps off the night.
Plus, there's no need to stop the festivities if it's as simple as putting out a bowl of our crunchy green plantain chips right beside a hot or cold dip. Or just eat any of our tasty varieties alone, like BBQ, lime, sweet chili, habanero, and original flavor.
It's nice to know that our Tostones are really one of the healthier options on the picnic-table. That's because Prime Planet's only ingredients are plantains, palm oil, and salt. Less is more in healthy eating. An innovative international food company based in Miami, Prime Planet is committed to bringing to market a line of crunchy Tostones snack chips that are truly all-natural, gluten-free, non GMO, no cholesterol, and even kosher-certified – and the list of goodness goes on.
But mostly our Tostones are just naturally delicious.
No Independence Day party is complete without plenty of snacks and refreshing drinks. So, start the holiday festivities with a bang! These 4th of July Tostones recipes are explosively delicious. Dig in!
Become a Green Plantain Snack Chip Distributor
For more information, or to become a distributor, visit www.primeplanet.net; or contact Business Development Manager Marie Gonzalez at 305-592-2044; or via email at bdm@primefreshproducts.com.