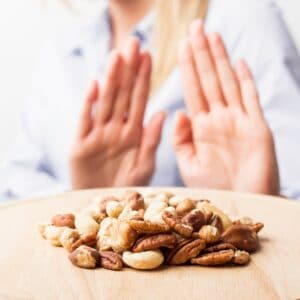 Most people can safely eat nuts and enjoy their nutritional value. Nuts are rich in protein, have vitamins and antioxidants, and even have omega-3 fatty acids. Unfortunately, not all of humankind can enjoy nuts. Nut allergies have been on the rise over the past few decades. And there's been a deluge of information on them.
Here at Prime Planet, we'd like to break down some of this information for you – because we know it's important for you to stay in tune with what's important to your customers – their health.
Important Facts About Nut Allergies:
The nut family includes: almonds, walnuts, pecans, pistachios, and a lot of others. These are all referred to as "tree nuts."
Peanuts are not tree nuts: In fact, they aren't nuts at all. Peanuts are legumes, which come from the same family as peas, beans, and soybeans. Because peanuts are a whole different species than tree nuts, some people are allergic to peanuts and not other, "real" nuts. Others are allergic to both. Because peanuts are so prevalent in the American diet, people with this allergy often have difficulty with prepared foods uncontaminated by peanuts.
Reactions to nut allergies can be severe: Nut allergy symptoms range from mild to very serious, and can include puffy or runny eyes or nose, sneezing, coughing, itching, hives, trouble breathing, and nausea. These are the most common reactions. There are many other symptoms. The worst one is anaphylaxis, which can be fatal without prompt medical treatment.
Importance of medical advice: If someone suspects that he or she or a family member have a nut allergy, it is imperative they see a doctor. They might suggest their patient carry an EpiPen as a course of action. This is only necessary in extreme cases, which are very rare, but can be the difference between life and death.
To the Rescue With No Nut Oil Whatsoever!
Concerned for your customers with nut allergies? With Tostones, You Don't Have to Be
As we mentioned, Prime Planet cares deeply about the health of its consumers. So we thought we'd let you know that not only is careful attention paid to ensure no peanut oil is included in our product whatsoever, our all-natural Tostones are also made from fresh green plantains, and they're cooked in vegetable oil.
In other words, the nutritional value found in Tostones is good nutrition. Just check out our label and you'll see. You can also refer to our other, most recent blog posts to learn about how Tostones have no cholesterol, no trans fats, virtually no sodium – and are even low fat and vegan! Talk about heroic!
"Fried green plantains are a staple dish among many people of equatorial countries around the world, especially throughout the Caribbean and South and Central America where they played a significant role in our upbringings," says Marie Gonzalez, Prime Planet's Business Development Manager.
"That's why I am so pleased and proud that the all natural Tostones chips we manufacture today are truly similar to the crisp, flattened plantains that our mothers used to make."
She adds, "As it turns out, back then, there were no peanuts or peanut oil involved in preparing plantain chips – just one-hundred percent deliciousness. This quality continues to be the case today with Prime Planet's all natural Tostones."
About Prime Planet
An innovative international food company based in Miami, Prime Planet is committed to bringing to market certified healthier for you products that are great tasting and nutritious. Its all-natural brand of Tostones offers not only the most delicious flavor, but are an all-around healthier snack option, too.
Knowledge, expertise, and direct access to leading global logistics and distributors of wholesale snacks and bulk-food products allow Prime Planet to find the shortest and most efficient commercial routes for ideal product shipment, product placement and freshness.
Be a Green Plantain Snack Distributor
For more information, or to become a distributor, visit

www.primeplanet.net

; or contact Business Development Manager Marie Gonzalez at 305-592-2044; or via email at bdm@primefreshproducts.com.