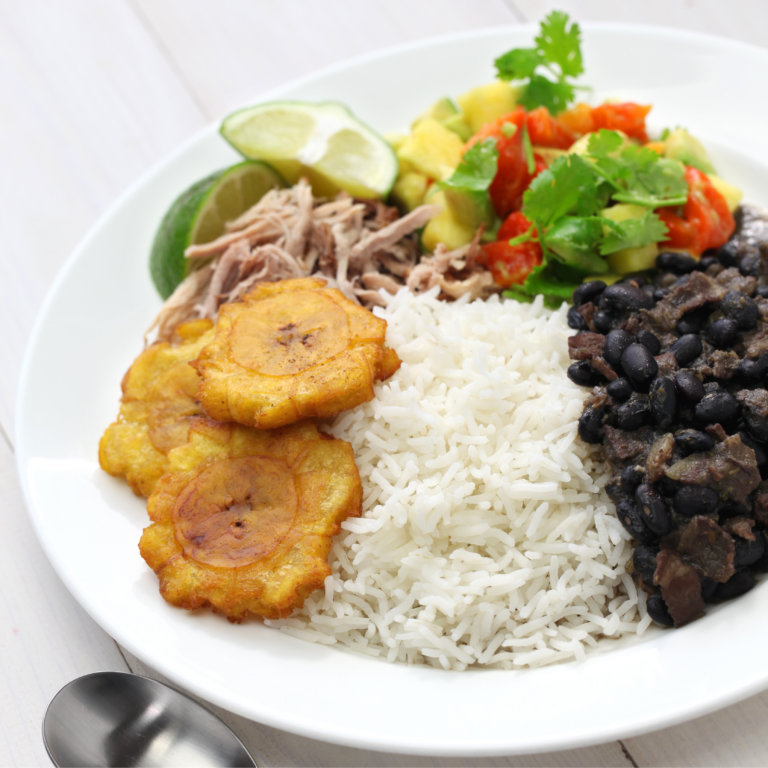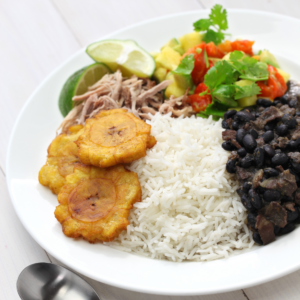 Among the countless traditional Christmas meals celebrated across the world, Caribbean pulled pork, also known as lechon in Cuba or pernil in South America, is a delicious festive meal typically enjoyed with family and friends on the night before Christmas or "Noche Buena." Tradition is necessary but it's also important to rethink and reinvent yourself for the times.
With a more health-conscious public, vegan cuisine is fast becoming mainstream and sometimes choosing to go "veg" doesn't necessarily mean you have to give up on your favorite meaty meals. That said, there's one vegan option that is the perfect meat substitute. Often called "the miracle food," Jackfruit is an ancient fruit grown on trees in tropical climates that has a versatile flavor, meaty texture, and is full of sustaining fiber and important nutrients.
It became clear that the jackfruit would be the perfect centerpiece for our Noche Buena vegan pulled "pork" Christmas extravaganza. Combined with Prime Planet's our all-natural green-plantain Tostones, rice, and beans and you get the perfect holiday recipe with a vegan twist. It's a perfect better-for-you dish over the holidays.
Follow our recipe below to discover there's no better meal during the season of miracles than the planet's favorite miracle food and Prime Planet's amazing Tostones. Enjoy the holidays!
Cuban Style Pulled Jackfruit
1 20 oz can jackfruit
1/4 cup olive oil
1/4 cup lime juice
1/4 cup orange juice
6 crushed garlic cloves
1 tsp salt
1 tsp Cuban oregano
1/2 tsp cumin
Serve with
white rice
black beans (canned)
Prime Planet Original or Lime tostones (Your choice!)
Instructions
Pre-heat oven to 450 degrees F
Drain jackfruit from can and rinse
Shred jackfruit and set aside in medium sized bowl
In a small bowl, prepare the Cuban mojo sauce by combining the olive oil, orange and lime juice, garlic, oregano, salt, and cumin
Combine Cuban mojo sauce with shredded jackfruit and mix with a fork thoroughly
Line a baking sheet with a piece of foil large enough to go up over the edges.
Spread jackfruit evenly, pouring the extra Cuban mojo sauce on top. Bake for 10 minutes, or until you see the edges of the jackfruit brown and crisp.
Place on your favorite serving dish and present
Plate with white rice, black beans, lime, and 3 Prime Planet tostones and combine for the perfect bite
Be sure to visit our website for an entire selection of recipes featuring Prime Planet Tostones.
About Prime Planet
An innovative international food company based in Miami, Prime Planet is committed to bringing to market the best kosher certified snacks – that are delicious and nutritious. Its all-natural brand of Tostones offer not only the most delicious flavor, but are an all-around healthier snack option, too.
Knowledge, expertise, and direct access to leading global logistics and distributors of wholesale snacks and bulk-food products allow Prime Planet to find the shortest and most efficient commercial routes for ideal product shipment and product placement.
Be a Plantain Snack Distributor
For more information, or to become a distributor yourself, visit www.primeplanet.net; or contact Business Development Manager Marie Gonzales at 305-592-2044; or via email at bdm@primefreshproducts.com.
Hungry yet? Here's a selection of other taste-bud tempting ideas for combining Prime Planet Tostones with appetizers or your favorite side plates:
Guacamole & Toston Chips
Spicy or Seasoned Cheddar Cheese & Toston Chips
Toston Chips & Salsa
Artichoke Dip with Lime Toston Chip
Tostones "Nachos" Tray (guacamole, mole black beans, cheddar cheese, shredded white cheese) with Shredded Chicken or Pork
Fish Ceviche with Lime Toston Chips
Korean Spice Chicken with Sweet Chili Toston Chip
Beans Salad & Original Toston Chips
Rotisserie Chicken with Cole Slaw Salad & Original Toston Chips
Cheese & Veal Tray with Toston Chips
Pimientos Hummus & Habanero Flavored Toston Chips