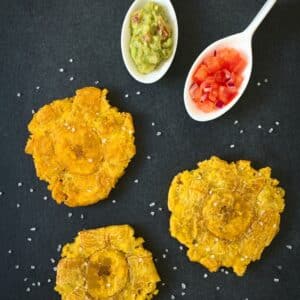 What can you whip up quick in the kitchen when family or friends drop in over the holidays? Consumers this time of year need an easy option for holiday snacking that's brimming with flavors – something fast and festive like "red, green, and Tostones." Just open a jar of bright red salsa, lay out some fresh green guacamole, pop open a bag of all-natural Tostones, and get the party going with tasty plantain chips that are certified vegan, gluten-free, non-GMO, and totally delicious.
"Prime Planet Tostones are the perfect snack – a smart alternative to traditional potato chips or pretzels – and when served with just a few colorful 'sides,' your customers aptly become perfect holiday hosts and hostesses," says Prime Planet Business Development Manager Marie Gonzalez, who oversees nationwide distribution of this popular brand of green plantain snack chips.
"The good news is, deliveries to grocers and other retailers by our distributors are flowing well this holiday season," she adds, "ensuring that everyone is well stocked and able to get the snacks for the holidays that they need."
As for flavors, well, there's nothing like the original Tostones. However, based on sales data, our loyal snackers love the lime-flavored and sweet chili-flavored plantain chips as well. For a spicy kick, our habanero-flavor Tostones are a big hit, too! And then there's the success story of the year, our super popular barbecue flavored Tostones, Prime Planet's newest offering.
Making our snack chips even more appealing, consumers are discovering that Tostones go with all kinds of dipping sides, like sour cream, French onion dip, honey-mustard dip, and a yummy hot cheese dip. Festive Christmas snacks at your service!
Right at Home with Plantains
Prime Planet's parent company Prime Group is headquartered in Miami, home to a diverse mix of peoples and cultures, many of whom have roots in Latin America. So needless to say, among our Florida base of customers, those who hail from the Caribbean, and South and Central America are right at home with green plantains and the many ways to prepare them – with salty snack chips high on the list. So, a bag of Tostones is, at times, more than simply a snack; they are often used as a crunchy ingredient or topping that pairs well with spicy Latin dishes.
"As the holiday season is now in full swing, our sales and marketing team is boosting business in numerous ways, including encouraging consumers to check their local grocers' shelves to be sure they've got enough Tostones on standby," says Gonzalez. After all, having several bags on hand is good insurance if unexpected guests show up at your door or if you're planning holiday functions.
"Finally, on behalf of all of us at Prime Planet, let me take this opportunity to wish all our valued grocery industry clients, retail and wholesale customers, and Tostones lovers everywhere a happy, healthy holiday season."
About Prime Planet
An innovative international food company based in Miami, Prime Planet is committed to bringing to market a line of crunchy Tostones snack chips that are truly all-natural, gluten-free, non GMO, no cholesterol, and even kosher-certified – and the list of goodness goes on. Tostones not only come in the most delicious flavors (BBQ, lime, sweet chili, habanero, and original), but are an all-around healthier snack option, too.
Knowledge, expertise, and direct access to leading global logistics and distributors of wholesale snacks and bulk-food products allow Prime Planet to find the shortest and most efficient commercial routes for ideal product shipment and product placement.
Become a Green Plantain Snack Chip Distributor
For more information, or to become a distributor, visit www.primeplanet.net; or contact Business Development Manager Marie Gonzalez at 305-592-2044; or via email at bdm@primefreshproducts.com.