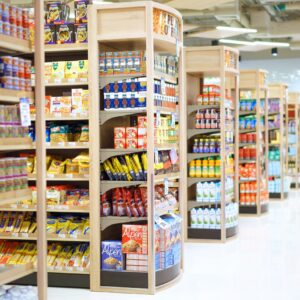 Consumers traditionally head to a grocery or convenience store, look for their favorite snack brand, and grab and go. So, how do grocers and retail establishments interest them in nabbing a new product, raise visibility and the potential for higher sales – and get customers to put their chips, dips, or doodads in their cart?
Success in introducing new products depends on a strong "shelf management" focus, notes Prime Planet's Business Development Manager Marie Gonzalez, a view supported by a recent Acosta "Shelf Management Report" stating that more than half of grocery buying decisions are made directly at the shelf. While manufacturers spend $100 billion annually to promote new products, they also spend $300 million on shelf management, which is responsible for 66 percent of sales and 85 percent of profits.
"Fixing the Shelf"
In fact, "fixing the shelf" to achieve maximum sales of a new product can provide a sales lift of 6 percent. Here are some shelf presentation tips to get those new products noticed:
Keep Shelves Neat & Tidy: This helps customers see the products clearly and improves their ability to notice something new. In contrast, if shelves look "a muddle" from the neatness perspective, new products – not recognizable to the customer – can get lost in the mix.
Ensure Shelves are Filled: Push products forward to the front – so they're nicely in a line. Ensure there are no empty spaces across the length of the shelving. Customers can thus see all the new merchandise. They gain the perception that the store is organized and that the product itself is high-quality.
Feature an In-Store Promotion: New products are usually an impulsed purchases. Talk to the product manufacturer about partnering up for in-store promotions. For example, offer an incentive for consumers (such as a holiday-period offer that was promoted last month by Prime Planet to get 15% off our products at Publix, Central Market, and Safeway-NorCal). They'll stop, look, and likely buy.
Create Large, Colorful Displays: Displays that are big, colorful, and create vertical or horizontal blocks are a great way to grab the consumer's eye. Our Prime Planet Tostones, all-natural plantain chips – including a new BBQ flavor coming soon – have many of the qualities that can make such a display visually attractive such as the bags' vibrant color, appropriate package sizing, and easy-to-see nutritional information.
Position Away from Similar Products: To attract attention and secure "buzz" for a new product, move it to a display outside its normal department. That way if customers are eyeballing a new snack, they won't be in the same aisle as their favorite go-to snack item and won't be tempted to go with their old standby.
Keep It Simple: Bottom line? Customers don't have extra time to spare. So, be sure the display looks inviting. Keep the concept simple. Put the display in a prominent spot or near the check-out counter. Then, reap the sales rewards.
DSD Works for You
"One way for your merchandising team to get the biggest bang for their buck is to partner with a reputable distributor and DSD (direct store delivery) that will push hard for your brand at the retail level," adds Gonzalez. Prime Planet utilizes this highly effective strategy throughout South Florida – its most important market for the sale of its four tasty varieties of Tostones green plantain snack chips.
DSD means delivering products from a supplier or distributor directly to a store, bypassing the retailer's traditional distribution center. DSD tends to also put the unloading and stocking of products into distributors' hands, instead of the stores'. In the grocery industry, DSD is an important channel, since it not only gets products swiftly to their destination, but it also provides control over shelf space.
Shelving Matters

Showcasing a tasty new product can satisfy a customer's desire for seeing the latest and greatest new food options. It also can influence a customer's perception of the quality of your business – and whether you're "relevant" and on the cutting edge by selling what's hot and new in the food marketplace. And that's a recipe to keep people coming back for more.
About Prime Planet

An innovative international food company based in Miami, Prime Planet is committed to bringing to market the best kosher-certified snacks – that are delicious and nutritious. Its all-natural brand of Tostones offers not only the most delicious flavor but is an all-around healthier snack option, too. We offer a wide range of different flavors to choose from including:
Knowledge, expertise, and direct access to leading global logistics and distributors of wholesale snacks and bulk-food products allow Prime Planet to find the shortest and most efficient commercial routes for ideal product shipment and product placement.
Be a Green Plantain Snack Distributor

For more information, or to become a distributor of our organic tostones, visit www.primeplanet.net; or contact Business Development Manager Marie Gonzalez at 305-592-2044; or via email at bdm@primefreshproducts.com.
Additional Readings: