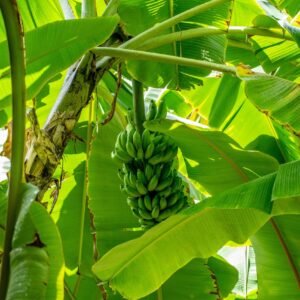 Plantains and bananas may already be especially popular in Latin American and the Caribbean, they claim the status of a staple in their diets largely in part to their distinct health benefits. With the growing popularity of Prime Planets' delicious tostones chips, however, now Americans are loving plantains more and more! Some popular recipes include tostones con pollo and regular fried tostones. Since they look the same and come from the same family, plantains and bananas are commonly confused. This confusion also translates to consumers not knowing the distinct health benefits that they offer.
Prime Planet is here to clarify any questions that people may have about the differences between bananas and plantains when it comes to their health benefits. Below, you can find a definitive guide that draws the line between plantains and bananas. 
Banana vs. Plantains Nutrition 
Plantain nutritional facts and healthy banana properties are very similar thanks in part to their similar genealogical tree. The difference between the two is reflected in their flavor profile. Plantains are less sweet than bananas, which indicates their lower sugar and higher starch content. For those that are interested in making their own bread, plantains are perfect for making gluten-free bread. A plantain's genetic makeup makes them perfect as a base for salty vegan snacks like tostones chips, which can be described as potato chips made from plantains.
On the other hand, bananas have higher sugar and less starch, which is reflected in their feebler consistency and sweeter flavor. This makes them more popular for making sweet pastries like banana bread or pudding. Here is a list of the differences between the health benefits of eating bananas and plantains:
       

Plantains have lower sugar

       

Plantains have a higher starch content

       

Bananas have lower carbohydrates and higher fiber

       

Plantains are a bit higher in calories

       

Plantains are rich in carbohydrates

       

Plantains are rich in potassium, Vitamin A, and Vitamin C
Plantains vs. Bananas: Health Benefits 
Plantains and bananas offer very similar health benefits. For one, their richness in vitamins A and C means that they both can act as antioxidants. In other words, including them in a balanced diet allows them to override harmful molecules which cause tissue damage and disease, which could also act as an anti-inflammatory agent.
Also, the high potassium and fiber content of both plantains and bananas can aid in muscle, memory, and digestive function. The principal difference between plantains and bananas is their starch content. A higher amount of starch in a diet could be beneficial when one considers the benefits of starch, which includes:
       

Lower risk of heart disease

       

Lower risk of stroke

       

Decreased risk of type 2 diabetes
Prime Planet specializes in providing customers with a gluten-free and kosher alternative to traditional snacks. Our tostones chips are made from high-quality plantains sourced in Ecuador and brought to you in your nearest Publix or convenience store. Our plantain chip flavors include:
       

Traditional

       

Lime

       

Sweet Chili

       

Habanero
If, after reading this guide on the differences between bananas and plantains, you wish to include plantains in your diet, visit our product page. We even offer assistance to prospective prime food distributors. Contact Prime Planet to learn more about our wholesale snacks.
Additional Readings:
Top Spots to Shop for Snack Foods on the Go 
Going Vegan? Prime Planet Tostones Are a Better-For-You Way to Go