Plantains have several health benefits. The high concentration of vitamin A, vitamin B, potassium, and starch present a plethora of healthy side effects. For one, potassium and starch are proven to improve muscle and nerve function, while vitamins A and B improve digestion and regulate cell growth and health. Plantain as medicine is so popular that the medicinal value of plantain has been adopted in many countries. However, one of the most sought-after health benefits consumers look for in their diet is anti-inflammatory properties.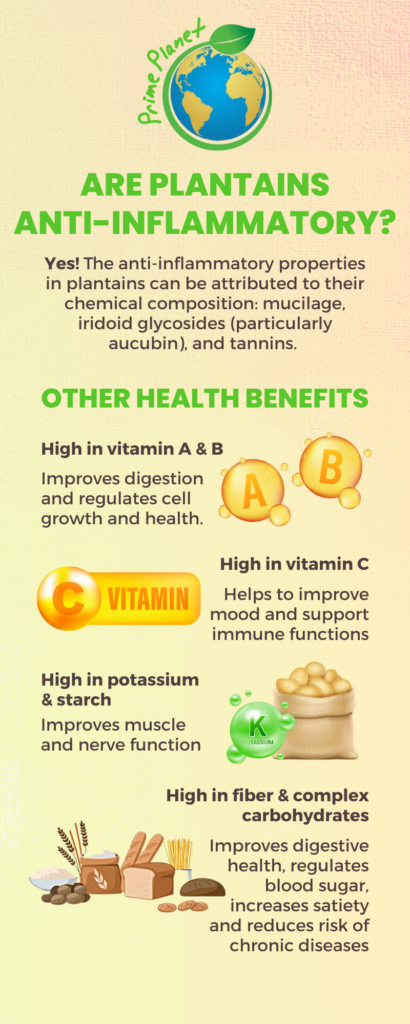 Anyone ready to adopt a new ingredient like common plantain chips to their diet, or someone looking to add to their store's inventory, would like to understand the health benefits of green plantains, including their anti-inflammatory properties. Consuming foods that have anti-inflammatory properties can lead to a decreased risk of heart disease, obesity, and arthritis. This begs the question: are plantains anti-inflammatory? Below, Prime Planet answers many questions regarding the health benefits of plantains- including their anti-inflammatory properties. 
Are Plantains Anti-Inflammatory?
Yes, among plantain's many benefits, health-conscious consumers or distributors will be happy to discover that plantains have anti-inflammatory properties. The leaves of the plantain tree have been traditionally used in holistic medicine to reduce inflammation in affected areas and have been reported to reduce headaches. The anti-inflammatory properties that plantains have can be attributed to their chemical composition. Plantains are composed of mucilage, iridoid glycosides (particularly aucubin), and tannins. 
Anti-inflammation is one of the most popular benefits of green plantains. This benefit should not be neglected by distributors that want to diversify their offerings or consumers who want to add a healthy component to their diet. Though plantains can be consumed in the traditional form, like eating a banana, a preferred method is eating plantain chips for a quick snack. Aside from anti-inflammatory properties, plantains offer a myriad of additional health benefits.
Other Health Benefits of Plantains
The benefits of green plantains, also known as platano verde or platano maduro, do not stop at anti-inflammation. Other health benefits include their high fiber content and a healthy amount of complex carbohydrates. Plantains also have vitamin A and C, which help to improve mood and support immune functions across the board. 
Prime Planet is a distributor that concentrates on producing and distributing wholesale snacks, particularly plantain chips. These snacks are prominent in areas of Latin America and the Caribbean, but people in the USA can't keep their hands off of these scrumptious chips! We offer traditional plantain chips along with some with different flavor profiles. These other flavors include habanero, sweet chili, and lime. To learn more about our green plantain chips, contact Prime Planet today to become a distributor.
Additional Reading:
Are Plantains Healthier Than Bananas?
Top Spots to Shop for Foods on The Go
Going Vegan? Prime Planet Tostones are a Better-For-You Way To Go